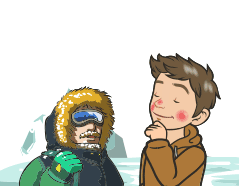 The new single story "The Arctic Explorer" will be released on Tuesday, August 15.
Ricky decides that he wants to be an Arctic explorer.
His dad thinks it might be difficult.
Will being an Arctic explorer be as easy as Ricky thinks?
Ricky thought about it for a while. "Is living in the Arctic very hard?" he asked.
"Yes," said Dad. "Did you know it's always light during summer?"
"No," said Ricky. "But that would be awesome!"
Would you want to be an Arctic explorer?