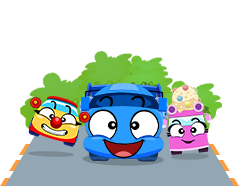 Season 3 of Tire Town School (Level 1, 24 episodes) begins on Thursday, August 31.
Tire Town School is an original Little Fox series featuring a dump truck named Eddy
and his car friends, Poppy, Dipper, Jeb, and Zippy. They are all students at Tire Town School.
What fun adventures will they have this season? Find out every Thursday!