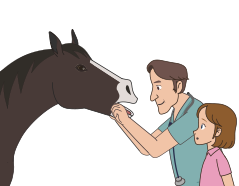 The new level 5 single story "The Horse Vet" will be released on Thursday, December 21.
Jessica shows up for her riding lesson but her favorite horse is sick.
Jessica was worried. "What's wrong with Buster?"
"That's what I'm here to find out," Dr. Roy said as he walked into the barn. "Come with me."
Jessica followed the vet to where Buster was.
Join Jessica and Dr. Roy as the horse vet examines Buster! Would you want to be a horse vet?