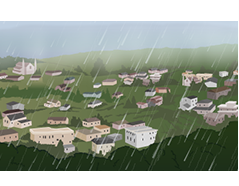 The new level 5 single story "Monster Monsoon" will be released on Thursday, December 28.
Have you heard of Mawsynram, India? It's famous for a special reason.
Every year Mawsynram gets over 11,870 millimeters of rain. That's enough to fill a rain gauge as tall as a four-story building! Ninety percent of this rain falls from April to September. What makes Mawsynram get so much rain?
Learn all about the wettest place on earth and how people make it through the rainy season.