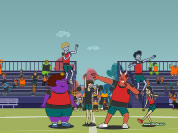 Our September 2021 desktop background/calendar features the Little Fox original series Monster Academy (Level 6, 130 Chapters). Monster Academy is a perfectly normal school for perfectly normal monsters. But strange things are always happening! Can the monsters of Monsterville and the people of People Place ever learn to get along? Be sure to check out the series and apply our Monster Academy background as your desktop wallpaper today!
To apply a Little Fox desktop background:
1. Download the image.
2. Right click on the saved image and select Set as desktop background.
[View Little Fox Desktop Backgrounds]
※ Little Fox desktop backgrounds are only available on PC.