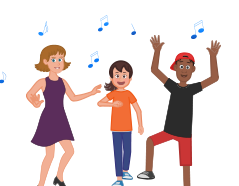 The new single story "Dance Practice Time" will be released on Tuesday, August 1.
Come along for a tour of 123 Dance Studio and learn about different types of dance with the dancers.
Ballet is difficult to learn. Ballet dancers must be flexible and strong.
See how Kira stands on one foot and makes a full turn?
She must hold her body really straight to do this turn.
What other dancers are practicing at 123 Dance Studio?
Meet them all and learn something new about dance!