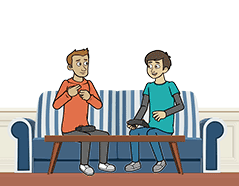 The new single story, "Sign Language Buddies" will be released on Tuesday, August 8.
Robby finds a way to befriend the new kid in his class, Zack, who is deaf.
Mom and I went to the sign language class together.
We found out there are many different kinds of sign languages.
All sign languages use hand, face, and body movements to communicate words and ideas.
Find out how Robby and Zack became good friends and learn the basics of sign language!