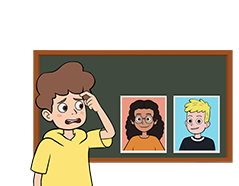 The new single story "The Election Question" will be released on Tuesday, August 29.
A boy has a problem when his two best friends are both running for school president.
With the help of his teacher, sister, and parents, he learns the importance of elections.
"Voting isn't just marking a ballot," added Mom.
"It's a serious responsibility. I vote for people who will make the world better for us."
My parents didn't solve my problem. But they had good advice.
Which friend will the boy vote for?