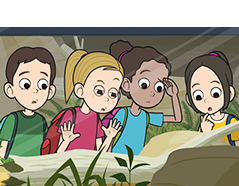 The new single story "Animal Camouflage" will be released on Tuesday, September 12.
Mr. Zimmer's class goes on a field trip to the zoo, and they visit animals that all have something in common.
"These animals use their colors or patterns to hide. This is called camouflage," said Mr. Zimmer.
"You mean like military clothing?" Frank asked.
"Yes," said Mr. Zimmer. "Camouflage clothing protects soldiers.
They can blend in with their surroundings. Animals use camouflage for protection too."
View the new animated story or read the eBook to follow along as Mr. Zimmer's class learns all about animal camouflage!