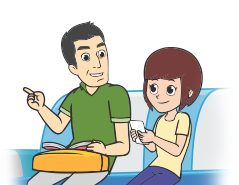 The new level 5 single story "My Netiquette Lesson" will be released on Thursday, November 30.
Ella gets a new smartphone for her birthday and learns a valuable lesson about being careful online.
Last week was my birthday. My parents gave me a cool gift—my own smartphone.
"Enjoying your new phone, Ella?" Dad asked. "Don't forget your online manners."
Learn what netiquette is and how to be careful online!