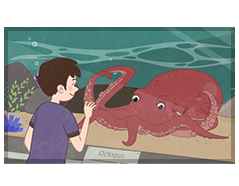 The new level 5 single story "William and the Octopus" will be released on Thursday, December 7.
William wants a pet octopus, but will he still want one after a behind the scenes look at the local aquarium?
"I love octopuses!" said William. "I'm saving for a pet octopus."
"Sea animals need special care—especially an octopus" said Dr. Blackwell.
"Do you want to see how I take care of our octopus?"
"Yes!"
"Let's go."
Take a look and see what happens at an aquarium and find out if William still wants a pet octopus!