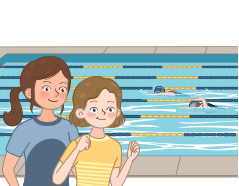 The new level 5 single story "Swimming to Win" will be released on Thursday, December 14.
Inez and Angela watch Odette's swim meet. Will Angela convince Inez to join the team?
Right now all the swimmers were warming up. But Inez couldn't find Odette anywhere.
"All the swimmers look the same," Inez complained. "Why do they all wear the same type of swimming gear?"
Learn all about how swimmers train to compete and find out if Inez will join the team!