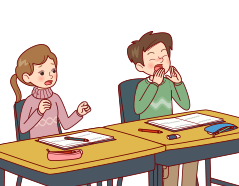 The new level 5 single story "Arthur's Big Sneeze" will be released on Thursday, January 4.
When Arthur has a big sneeze, Mrs. MacPhee gives the class a lesson on the common cold.
"Ah-choo!" Arthur sneezed loudly into his hands.
"Arthur, don't you have a tissue? Please sneeze into your arm, not your hands," Mrs. MacPhee said.
Join Mrs. MacPhee's class as she explains what causes colds and how to prevent them!