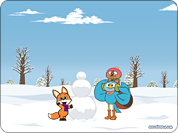 Our December 2019 desktop background features Bird, Kip, and Freddy. Kind Bird and mischief-making Kip are the main characters from the Little Fox original series Bird and Kip (Level 2, 72 Episodes). Freddy the fox is one of the stars of the Little Fox original song series Sing-Alongs. Enjoy the stories and songs, and apply our Bird, Kip, and Freddy background as your desktop wallpaper today!
To apply as your desktop background:
1. Click download and select size.
2. In the new tab or window, right click and save image.
3. Right click on the saved image and select Set as desktop background.
Little Fox desktop backgrounds are only available on PC.