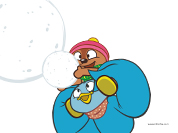 Our January 2022 desktop background features the Little Fox original series Bird and Kip (Level 2, 96 Episodes). Bird lives in a peaceful nest in a quiet tree. But then Kip moves in! The noisy chipmunk loves stirring up trouble! These two unlikely friends always have lots of fun together. Be sure to check out the series and apply the new background as your desktop wallpaper today!
To apply a Little Fox desktop background:
1. Download the image.
2. Right click on the saved image and select Set as desktop background.
[View Little Fox Desktop Backgrounds]
※ Little Fox desktop backgrounds are only available on PC.