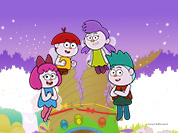 Our March 2022 desktop background features the Little Fox original series Birthday Fairies (Level 3, 24 Episodes). Sprite, Hob, Feather, and Bumble are the new birthday fairies. The have an important job of granting children's birthday wishes! Be sure to check out the series and apply the new background as your desktop wallpaper today!
To apply a Little Fox desktop background:
1. Download the image.
2. Right click on the saved image and select Set as desktop background.
[View Little Fox Desktop Backgrounds]
※ Little Fox desktop backgrounds are only available on PC.