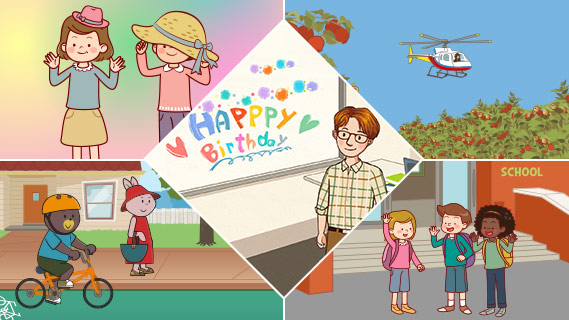 Every Thursday in March, we will be releasing an upgraded Level 1 or 2 single story according to the following schedule:
Seasons Are Fun – Thursday, March 3
There are four seasons: winter, spring, summer, and fall. How are the seasons different?
Dressing Up – Thursday, March 10
Mommy's dress and Daddy's shirt. Practice words for things to wear! What can you put on?
Rainbow Car – Thursday, March 17
Red, orange, yellow, and more. Do you know all the colors of the rainbow?
Things I See – Thursday, March 24
Patterns are everywhere! In the sky, at the beach, at the store and more! Where do you see a pattern?
My Helicopter – Thursday, March 31
Over the field, over the mountains, and over the orchard. Where does the helicopter fly?
Upgraded stories have been newly animated to meet our current standards of quality. The current versions of these stories will be available on our website until the Tuesday before the upgrade is published.