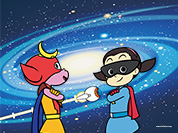 Our February 2023 desktop background features the series Rocket Girl's Galaxy Squad Adventure (Level 5, 24 Chapters). When the powerful villain Meltron threatens to take over the galaxy, even Rocket Girl can't stop him alone. She brings her friends and Kid Comet to make a team, the Galaxy Squad! Be sure to check out the series and apply the new background as your desktop wallpaper today!

To apply a Little Fox desktop background:
1. Download the image.
2. Right click on the saved image and select Set as desktop background.
[View Little Fox Desktop Backgrounds]
※ Little Fox desktop backgrounds are only available on PC.