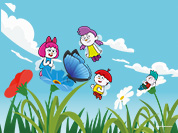 Our March 2023 desktop background features the series Birthday Fairies (Level 5, 48 Episodes). Bumble, Feather, Hob, and Sprite are birthday fairies with an important job: they grant children's birthday wishes! Be sure to check out the series and apply the new background as your desktop wallpaper today!
To apply a Little Fox desktop background:
1. Download the image.
2. Right click on the saved image and select Set as desktop background.
[View Little Fox Desktop Backgrounds]
※ Little Fox desktop backgrounds are only available on PC.