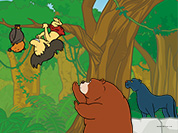 Our April 2023 desktop background features the series The Jungle Book (Level 5, 24 Chapters). Mowgli is a human boy raised by wolves in the jungle. But the fearsome tiger Shere Khan forces Mowgli to leave the jungle. Will Mowgli adjust to life in the human village? Be sure to check out the series and apply the new background as your desktop wallpaper today!

To apply a Little Fox desktop background:
1. Download the image.
2. Right click on the saved image and select Set as desktop background.
[View Little Fox Desktop Backgrounds]
※ Little Fox desktop backgrounds are only available on PC.