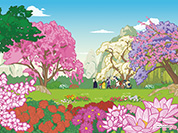 Our May 2023 desktop background features the series Journey to the West (Level 5, 108 Chapters). Sun Wukong is given the mission of protecting the Tang Monk with Zhu Bajie and Sha Wujing. Will they make a safe journey to the west? Be sure to check out the series and apply the new background as your desktop wallpaper today!
To apply a Little Fox desktop background:
1. Download the image.
2. Right click on the saved image and select Set as desktop background.
[View Little Fox Desktop Backgrounds]
※ Little Fox desktop backgrounds are only available on PC.