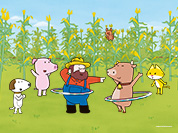 Our May 2023 desktop background features the series Bat and Friends (Level 1, 72 Episodes). Five animal friends live together in the barn. Follow the fun adventures of these five different animals as they learn to understand each other and become good friends! Be sure to check out the series and apply the new background as your desktop wallpaper today!

To apply a Little Fox desktop background:
1. Download the image.
2. Right click on the saved image and select Set as desktop background.
[View Little Fox Desktop Backgrounds]
※ Little Fox desktop backgrounds are only available on PC.