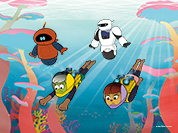 Our July 2023 desktop background features the series Space Patrol (Level 2, 96 Episodes). Ringo is a new Space Patrol rookie, and his trusty robot, Bot, is always there to help him. Their missions aren't easy, but Ringo and Bot always try their best! Be sure to check out the series and apply the new background as your desktop wallpaper today!

To apply a Little Fox desktop background:
1. Download the image.
2. Right click on the saved image and select Set as desktop background.
[View Little Fox Desktop Backgrounds]
※ Little Fox desktop backgrounds are only available on PC.