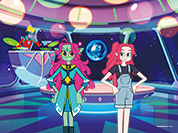 Our August 2023 desktop background features the series Ally on Earth (Level 6, 30 Episodes). Ally the Astralian has a major problem when she accidently lands on Earth and can't return home. Ally must keep her alien identity a secret as she lives among the humans of Sandville! Be sure to check out the series and apply the new background as your desktop wallpaper today!

To apply a Little Fox desktop background:

1. Download the image.
2. Right click on the saved image and select Set as desktop background.
[View Little Fox Desktop Backgrounds]
※ Little Fox desktop backgrounds are only available on PC.