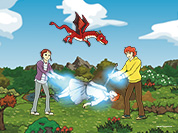 Our September 2023 desktop background features the series Red Magic (Level 7, 200 Chapters). The Reds are the most powerful people in Magica, and evil Morb is kidnapping them to steal their power. Can Zann and his friends stop Morb? Be sure to check out the series and apply the new background as your desktop wallpaper today!
To apply a Little Fox desktop background:

1. Download the image.
2. Right click on the saved image and select Set as desktop background.
[View Little Fox Desktop Backgrounds]
※ Little Fox desktop backgrounds are only available on PC.