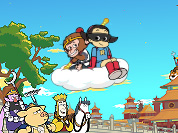 Our October 2021 desktop background/calendar features the Little Fox original series Rocket Girl's Journey to the West (Level 5, 24 Chapters). The Tang Monk is in trouble again when a powerful demon wants to eat him. Of course, the Demon of Black Rain is no match for Sun Wukong. But there is a goddess from a strange world that can surely beat the Monkey King . . . What happens when Metro City's number one superhero and the heroes of Journey to the West get mixed up in each other's worlds? Be sure to check out the series and apply our Rocket Girl's Journey to the West background as your desktop wallpaper today!
To apply a Little Fox desktop background:
1. Download the image.
2. Right click on the saved image and select Set as desktop background.
[View Little Fox Desktop Backgrounds]
※ Little Fox desktop backgrounds are only available on PC.