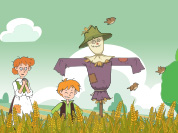 Our November 2021 desktop background/calendar features Jack and the Beanstalk (Level 3, 24 Episodes). Jack's mother decides to sell their cow since they're poor and they need the money. But Jack trades the cow for some magic beans! A giant beanstalk grows from the beans, and Jack climbs it all the way up to the clouds. What adventures—and dangers—await him in this retelling of the classic tale? Be sure to check out the series and apply our Jack and the Beanstalk background as your desktop wallpaper today!
To apply a Little Fox desktop background:
1. Download the image.
2. Right click on the saved image and select Set as desktop background.
[View Little Fox Desktop Backgrounds]
※ Little Fox desktop backgrounds are only available on PC.